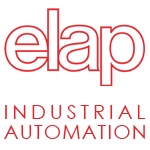 Since 1968 ELAP has been offering its customers highly advanced products and qualified service, ranking it as an ideal partner in industrial automation.
ELAP product range includes an extensive array of position transducers – absolute and incremental encoders, linear and rotary potentiometers, digital and magnetic linear transducers, wire encoders and potentiometers, tilt and vibration sensors – and a series of instruments dedicated to counting, visualising, positioning and process control.
All the products are engineered, manufactured and tested in Elap laboratories, relying on the latest technologies and state-of-the art equipment.

Elap Research & Development engineers are constantly engaged in studying new and innovating products, complying with the requirements of the global marketplace.

Elap technical and commercial staff is at the customers' disposal to propose the most effective solution for each application. Tailored solutions are developed on request.

---
| Product | |
| --- | --- |
| | |